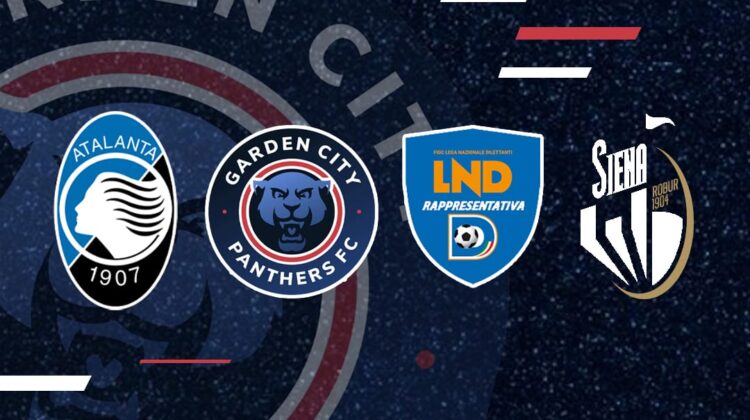 VIAREGGIO CUP GROUPS HAVE BEEN OFFICIALIZED.
The groups of the 72nd edition of Viareggio Cup, tournament scheduled from 16 to 30 March 2022, were drawn this morning.
The event reserved for the U18 category for the men's teams, and Primavera for the women's teams, returns after a two-year break due to a pandemic.
Garden City Panthers FC has been included in Group B6 with Atalanta, Siena and Rappresentativa Serie D.
We interviewed President Robinson Adakosa about the Nigerian team's participation in the event:
How many editions has Garden City Panthers FC participated in the Viareggio Cup?
Garden City Panthers FC participated in the 69th edition in 2017, this is the second experience for us.
What does it mean for a foreign team to participate in this important tournament?
For us it's more than a tournament, it's a real launching pad for the club and the players who'll have to stand out and make the world understand the level we've reached.
Viareggio represents one of the greatest showcases for youth football, what's your goal?
We think that the Viareggio Cup isn't just a showcase for Italian football but for world football, in the past we took part in tournaments in Europe and America but nothing compares to the excitement you feel at the Viareggio Cup. We bet on our youngsters and we hope they'll be noticed by sports directors or observers.
How do you judge the opponents of your group?
We ended up in an iron group, Atalanta boasts one of the most important youth sectors in the world, Rappresentativa Serie D mades up of selected players who already play high-level matches and Siena, a club that plays among the professionals. It won't be easy but let's think about facing one game at a time.
Can you tell us about this team and the guys who'll take part in the 2022 edition?
We've a young team but they know what it means to play at these levels. There are two talents from the Nigerian national team and three who are already in the orbit of the senior national team.
The captain, Olisa Harold Ndah, of the 2017 edition plays today for the South African professional team Orlando Pirates FC. After the 2017 Viareggio tournament, the 80% of the players in the squad found a professional team around Europe, we're here to get noticed and make the most of the good work done in Nigeria.
Ufficializzati i gironi del Torneo di Viareggio.
Sono stati sorteggiati questa mattina i gironi della 72esima edizione della Viareggio Cup, torneo in programma dal 16 al 30 marzo 2022.
La manifestazione riservata alla categoria Under 18 per le squadre maschili, e Primavera per quelle femminili, torna dopo una pausa di due anni causa pandemia.
I Garden City Panthers sono stati inseriti nel Gruppo B, Girone 6 insieme a Atalanta, Siena e Rappresentativa Serie D.
Abbiamo intervistato il Presidente Robinson Adakosa sulla partecipazione alla manifestazione della squadra nigeriana:
Quante sono le edizioni a cui i Garden City Panthers hanno partecipato della Viareggio Cup?
I Garden City Panthers hanno partecipato alla 69esima edizione nel 2017, questa per noi è la seconda esperienza.
Cosa significa, per una squadra straniera partecipare a questo importante torneo?
Per noi è più di un torneo, è una vera e propria rampa di lancio per il Club e i giocatori che dovranno mettersi in luce e fare capire al mondo il livello che abbiamo raggiunto.
Il Viareggio rappresenta una delle massime vetrine per il calcio giovanile, qual è il vostro obiettivo?
Pensiamo che la Viareggio cup non sia solo una vetrina per il calcio italiano bensì per il calcio mondiale, in passato abbiamo preso parte a tornei in Europa e America ma nulla è comparabile all'emozione che si prova al Torneo di Viareggio. Scommettiamo sui nostri giovani e ci auguriamo siano notati da direttori sportivi o osservatori.
Come giudica le avversarie del vostro girone?
Siamo capitati in un girone di ferro, l'Atalanta vanta uno dei settori giovanili più importanti al mondo, la Rappresentativa Serie D è composta da giocatori selezionati che disputano già match di livello e il Siena, società che milita tra i professionisti. Non sarà semplice ma pensiamo ad affrontare una partita alla volta.
Ci parli di questa squadra e dei ragazzi che prenderanno parte all'edizione 2022?
Abbiamo una squadra giovane ma che sa cosa vuole dire giocare a questi livelli. Ci sono due talenti della Nazionale Nigeriana e tre che sono già nell'orbita della Nazionale maggiore.
Il Capitano, Olisa Harold Ndah, dell'edizione 2017 oggi gioca in una squadra professionistica sudafricana gli Orlando Pirates FC. Dopo il torneo di Viareggio 2017, l'ottanta % dei giocatori in rosa ha trovato squadra tra le squadre professioniste di tutta Europa, siamo qui per farci notare e valorizzare al massimo il buon lavoro fatto in Nigeria.